If you have been on social media lately, you have likely seen smoothie bowl recipes and pictures surfacing everywhere. Even Health magazine recently praised the smoothie bowl as "the best thing you can do with a blender." Beyond its picture-worthy presence, the dish is one of the healthiest ways to start your morning, besides which it's satisfying and delicious. With fresh fruit and vegetables as the base, which is topped with superfoods such as goji berries and maca, you will have a diet-friendly breakfast in just minutes.
Ready to share a couple of our favorite smoothie bowls with your clients? Check out these 10!
10 healthy smoothie bowls that will shake up your clients' morning routines
The Simple Veganista: enlighten smoothie bowl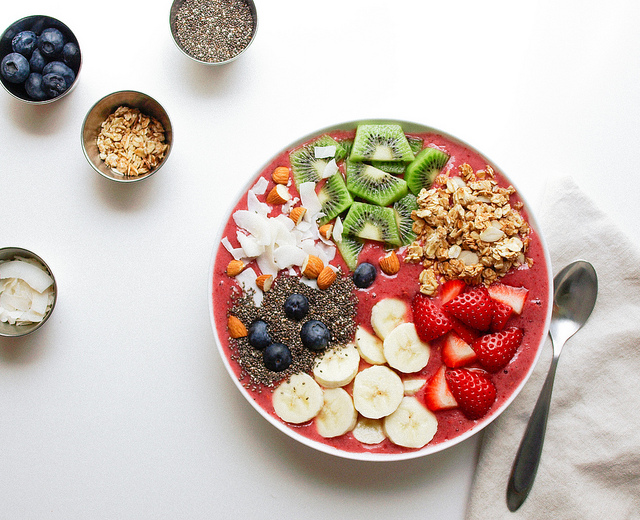 Not only is this smoothie bowl packed full of the antioxidants, vitamins and superfoods that our bodies crave, but it's also 100 percent clean and vegan friendly. Please note that while fresh fruit has a number of other benefits, it won't nourish the body with the protein that your clients may need to support their weight-loss goals. They can, however, add protein powder or peanut butter for protein to build muscle and burn fat.
The Coveteur: carrot cake protein smoothie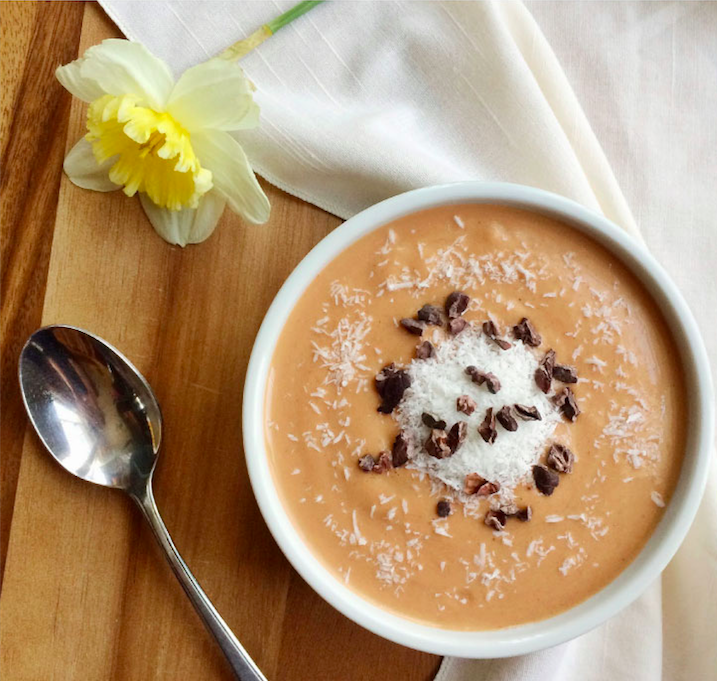 Who doesn't love dessert for breakfast? And that's exactly what this creamy smoothie bowl tastes like, a dessert. But the best part? It's packed full of potassium, vitamins and protein.
Nutrition Stripped: blueberry banana crunch smoothie bowl
Don't let the name of McKel's blog fool you; Nutrition Stripped is one of the best places to find plant-centric and gluten-free recipes, such as the blueberry banana crunch smoothie bowl. Mickel's creation is "very nutrient dense with added antioxidant rich berries," making this smoothie bowl a healthy breakfast favorite. Not to mention, it's low in calories, a healthy source of fiber and packed full of vitamins C and K.
Nutrition Stripped: green smoothie bowl + superfoods 101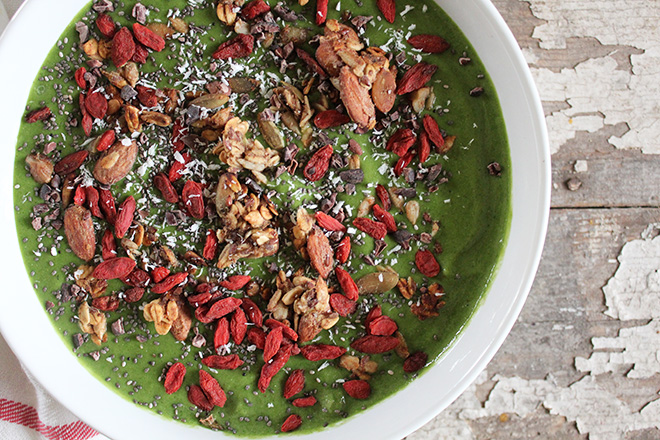 Once your client whips up the blueberry banana crunch smoothie bowl, he or she is sure to crave one of McKel's original creations, the stripped green smoothie bowl. The base of this recipe is 100 percent raw and completely satisfying because of its contents and flavorful toppings.
Domesticate Me: vegan berry crunch smoothie bowl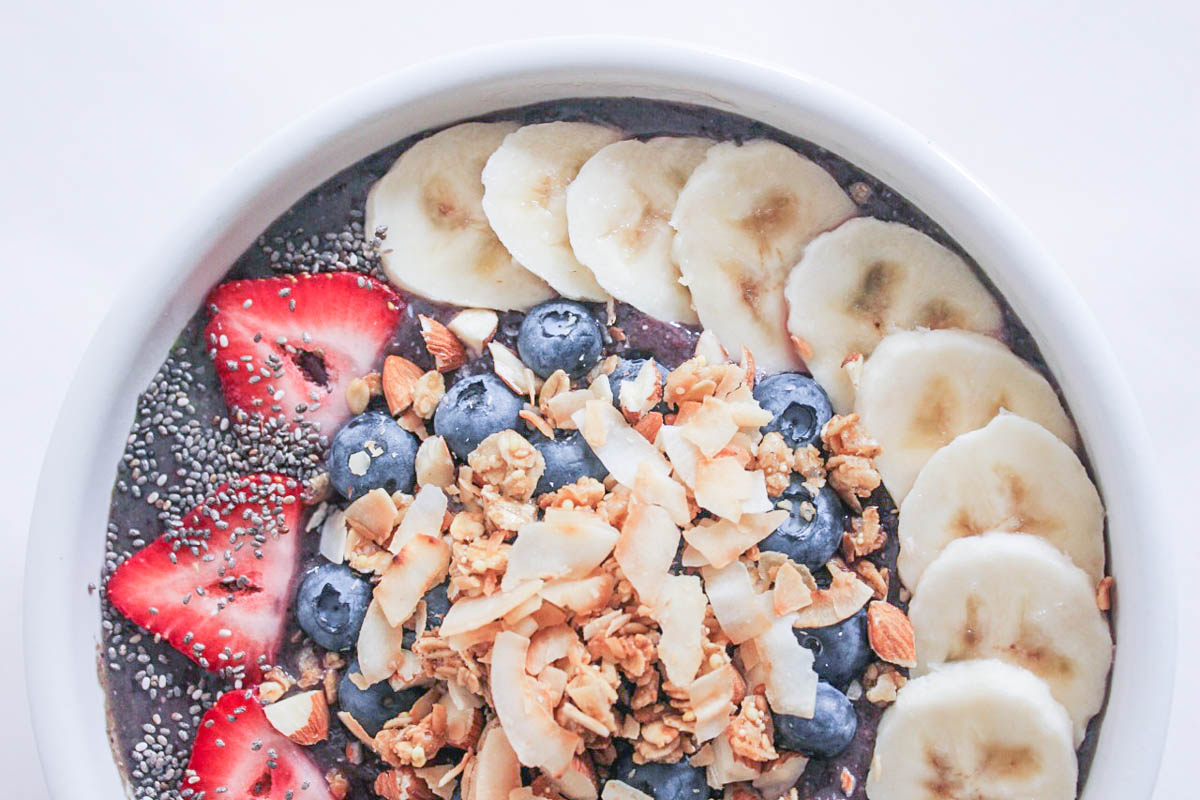 This bowl is perfect for any of your clients who may be smoothie-bowl shy. It's packed full of mixed berries, agave and the optional coconut shavings, giving it a sweet and savory flavor—yet still healthy and nourishing.
Oh She Glows: green tea lime pie smoothie bowl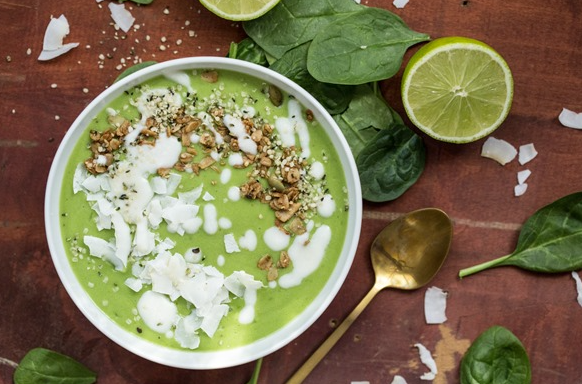 Vegan, check. Gluten- and nut-free, double check. The base of the green tea lime pie smoothie bowl is completely raw and free of oil, refined sugar and soy. The coconut water is also great for hydrating, making it a perfect post-workout meal.
Hello Natural: vegan blackberry coconut smoothie bowl
What we love most about smoothie bowls is that they energize the body with nutrients and disease-fighting superfoods, like this blackberry coconut smoothie bowl from Hello Natural. It also contains a healthy dose of potassium and antioxidants—plus it's creamy and delicious.
Dishing Up the Dirt: butternut molasses smoothie bowl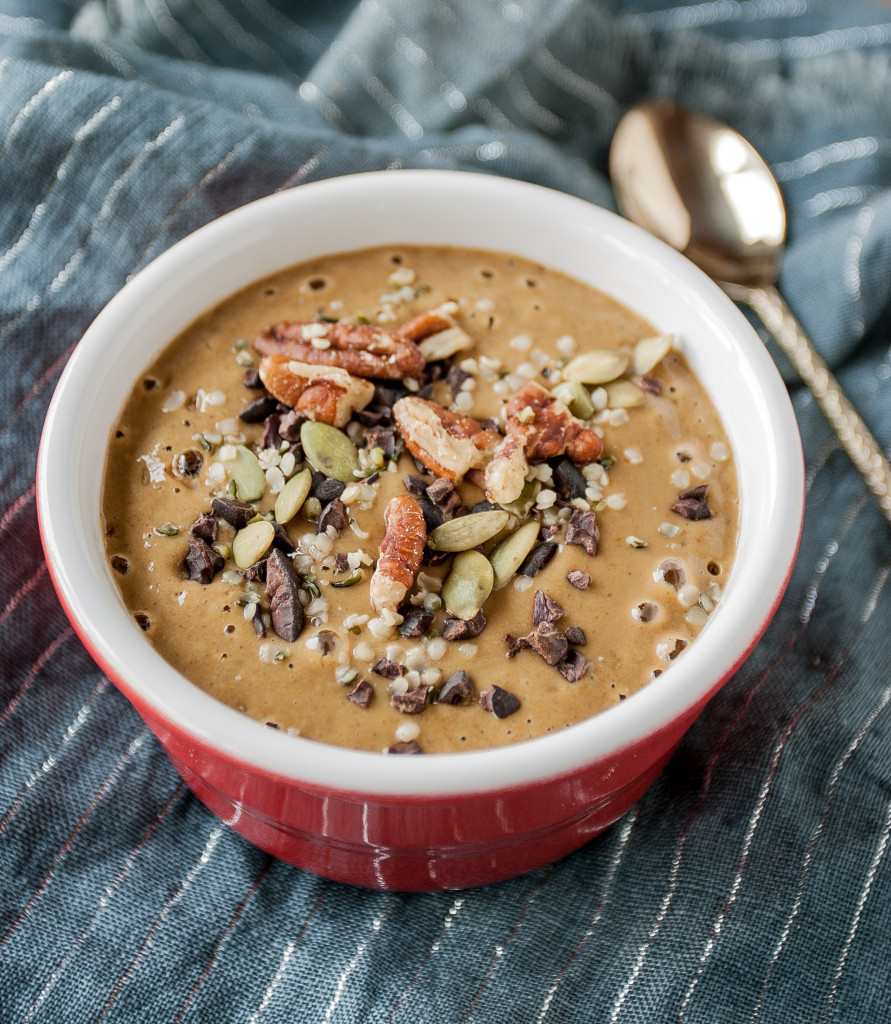 When you think of breakfast, you likely won't think of butternut squash as the center of the dish. But, with this smoothie bowl, you may change your mind. The molasses brings out a sweet flavor and provides a healthy source of fiber. Top it with pecans, pumpkin seeds and a small drizzle of maple syrup and voila!
Half Baked Harvest: coconut banana oats bowl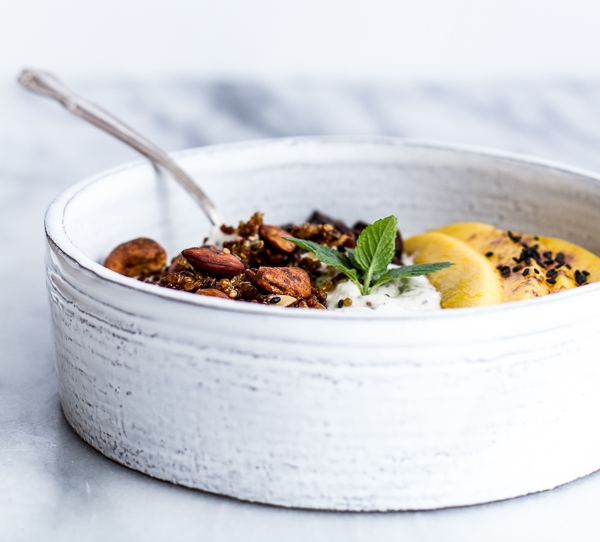 For your clients who are dreaming of warm summer days, this smoothie bowl should satisfy their cravings for now. The oats give it a creamy texture, while the cereal adds a satisfying crunch. And of course, the bowl is packed with all the flavor your would expect from a tropical-inspired dish.
Nutrition Stripped: blue morning smoothie bowl
While this smoothie bowl may have zucchini and spirulina as two of the core ingredients, don't let that discourage you. The smoothie is surpassingly delicious, and of course, extremely healthy. If your clients are watching their carbohydrate or sugar intakes, this smoothie bowl should be at the center of their tables.
Do you have any other smoothie bowl recipes you would like us to add to the list? Share with us below.