Need some inspiration for some delicious and nutritious plant-based snack ideas you and your clients can make in a jiffy? You've come to the right place!
Here we've come up with ten uncomplicated recipes you can whip up in a few minutes or make ahead and enjoy throughout the week. These healthy snacks are made up of nutrient-rich plant-based ingredients, and most of them allow for modifications to fit your needs and likes.
Avocado Tomato Crunchy Wrap
This satisfying wrap is nutty, fresh, and filling, and you can make it in less than five minutes. While no cooking is needed for this quick recipe, if you want to add an extra crunch, take the rolled wrap and place it on the grill for a few minutes.
Ingredients:
1 whole wheat wrap
½ avocado, mashed
½ tomato, sliced
1 tbsp. sunflower seeds
Drizzle of walnut oil (use olive oil or other healthy oil alternatives here)
Pinch of paprika
Salt and pepper to taste
How to Make It:
Lay out the wrap and spread the mashed avocado.
Layer the tomato across the middle.
Sprinkle with sunflower seeds and drizzle with walnut oil.
Shake on paprika, salt, and pepper to taste.
Wrap tight and enjoy.
Nutritional benefits
Avocados and walnut oil are rich in omega-3 fatty acids and several anti-inflammatory polyphenols. Tomatoes are great sources of the antioxidant lycopene, and sunflower seeds have unsaturated fatty acids in addition to tocopherols, B vitamins, minerals, and protein.
See if the CPBNS program is right for you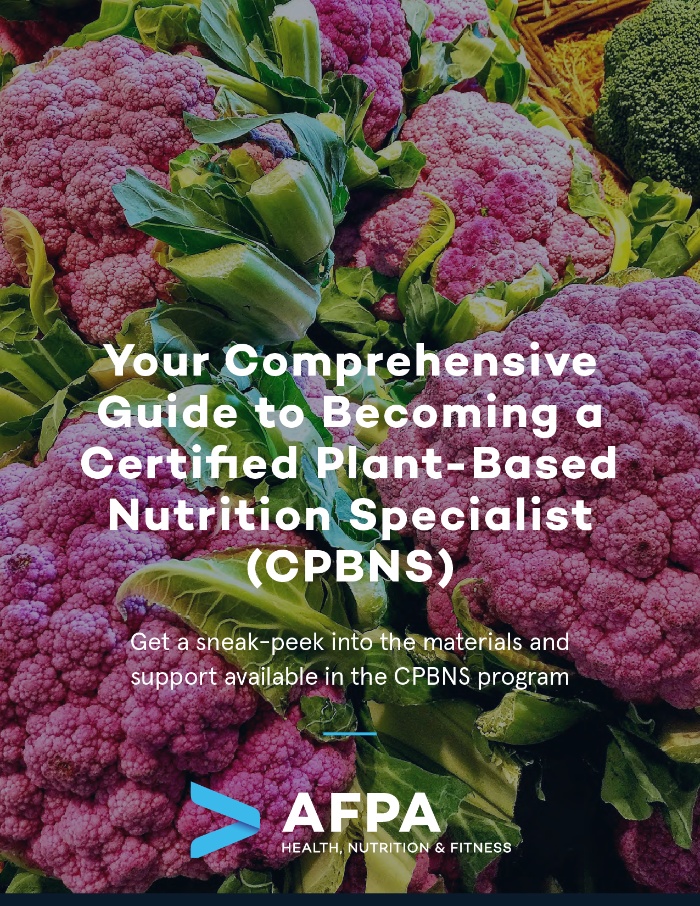 No-Bake Orange Oatmeal Cookies
Feel like something sweet that isn't packaged? These no-bake orange oatmeal cookies just might be a regular snack in your home; no need to preheat the oven, and even the kids will love them.
Ingredients:
1 ½ cups rolled oats
½ cup oat flour plus 2 tbsp. oat flour
1 tsp. nutritional yeast
1 cup almond butter
1 tbsp. chia seeds
¼ cup honey or molasses
Pinch of salt
Zest and juice from ½ orange
½ cup cacao nibs (optional)
½ tsp. cinnamon
How to Make It:
In a medium bowl, use an electric mixer to blend the almond butter, honey or molasses, orange zest, and orange juice.
In a small bowl, mix together the oats, ½ cup oat flour, nutritional yeast, chia seeds, salt, cinnamon, and optional cacao nibs.
Using a wooden spoon, slowly mix in the dry ingredients with the wet ingredients until blended. The texture should be consistent but slightly sticky. You can add more peanut butter or oat flour to achieve desired texture.
Shape into cookies.
Pour the 2 tablespoons remaining oat flour onto a plate, and "roll" cookies in flour. This makes the cookies less sticky. Enjoy!
Tip: These cookies freeze very well for up to two months.
Become a Certified Holistic Nutritionist Online in 6 Months or Less
Nutritional Benefits
Rolled oats are a great source of fiber and are particularly high in beta-glucan, a type of dietary fiber associated with lower cholesterol levels. Nutritional yeast is a plant-based source of vitamin B12, and chia seeds and almond butter deliver plant-based protein, unsaturated fatty acids, and several polyphenols. Cacao nibs deliver potent antioxidants, and the orange and cinnamon contain components that help promote healthy blood circulation.
Cilantro and Black Bean Taquitos
Here is a great protein-rich, plant-based snack with only four ingredients.
Ingredients:
3 corn tortillas
½ cup refried beans
1 tbsp. cilantro, chopped
½ tsp. cumin
How to Make It:
Spread the refried beans across the tortillas.
Sprinkle cilantro and cumin onto the beans.
Roll up and enjoy!
Nutritional Benefits
Black beans are generally an easily accessible, low-cost plant-based protein source that contains several minerals, dietary fiber, and multiple polyphenols. Corn tortillas pair well with black beans to deliver complete protein, and cilantro is packed with antioxidant and anti-inflammatory components.
Roasted Curry Chickpeas
Make these chickpeas on the weekend to enjoy throughout the week. While they are relatively easy to make, they take some patience, as you'll have to use the oven. But the final result—crispy, savory, and flavorful—make these roasted chickpeas very snackable. Best of all, you can enjoy this healthy snack on its own or as an addition to soups and salads.
Ingredients:
1 can chickpeas
¼ cup olive oil
2 tsp. salt
2 tsp. curry
1 tsp. pepper
How to Make It:
Preheat oven to 425°F.
Drain and rinse the chickpeas, and pat them dry with a paper towel. Shake the chickpeas in a bowl to loosen any skin, and remove them from the bowl. Pat dry again.
Pour chickpeas onto a parchment paper-lined cookie sheet.
Drizzle with olive oil or avocado oil, and use a spatula to make sure the chickpeas are covered in a layer of oil.
Add sea salt, pepper, and curry. Spread evenly across the cookie sheet.
Bake for about 20-25 minutes, moving with a spatula halfway through.
Remove from oven and cool. Enjoy!
Nutritional Benefits
Chickpeas, also known as garbanzos, are renowned for their iron content—a mineral that may be lacking in plant-based diets, and they also contain protein and fiber. Curry is rich in curcumin, an antioxidant and anti-inflammatory component.
Cauliflower Blueberry Smoothie
You may have heard of spinach and kale in your smoothies, but have you ever tried cauliflower smoothies? Like bananas, frozen cauliflower gives the smoothie a rich, smooth texture, but, unlike bananas, it has a mild flavor so you really enjoy the blueberries.
Ingredients:
1 cup fresh or frozen blueberries
1 cup frozen cauliflower
¼ cup cashew butter
1 ½ cups hemp milk, almond milk, or other plant-based drink of your choice
1 tbsp. date paste or 2 dates
How to Make It:
Put all the ingredients in a blender, and pour into two glasses. Enjoy!
Nutritional Benefits
Cauliflower is not necessarily the most popular of the cruciferous vegetables (except when people are looking for vegetable replacements for rice or bread). However, cauliflower is rich in multiple antioxidant, anti-inflammatory, and anti-cancer compounds, including carotenoids, antioxidant enzymes, flavonoids, terpenes, and others.
Blueberries are better known in the world of antioxidant fruits, but, in addition to a high concentration of flavonoids, they also contain components that fight against inflammation and support cell signaling. The cashew butter contributes several minerals and protein to this recipe.
Chia Seed Crackers
On their own or as a vehicle for guacamole or the Green Goodness Hummus recipe below, these chia seed crackers are a game-changer. Store them in an airtight container for up to two weeks for a great on-the-go snack.
Ingredients:
½ cup chia seeds
1 cup water
2 tbsp. ground flaxseed
½ cup sunflower seeds
½ cup sesame seeds
1 tbsp. garlic powder
¼ tsp. salt
How to Make It:
Preheat oven to 300°F.
In a medium bowl, combine chia seeds and water. Let thicken for 10-15 minutes, stirring every few minutes.
Add ground flaxseed, sunflower seeds, sesame seeds, garlic powder, and salt. Mix thoroughly. If there is still water, let sit for another 2-3 minutes so the seeds can absorb the mixture.
Line a baking sheet with parchment paper. Pour the seed mixture onto the parchment paper, and spread with a spatula. If desired, sprinkle with additional salt. Use the spatula to "cut" the mixture into four rectangles.
Place in the oven and bake for 30 minutes. Remove and flip the rectangles. Return to the oven for another 25-30 minutes or until crunchy but not burned.
Remove from the oven, and let cool completely. Enjoy on their own or with a guacamole or artichoke dip.
Nutritional Benefits
Chia seeds have gained popularity in the health world over the last several years because of their unique gastronomic properties, in addition to their rich and diverse nutritional content. Chia seeds are rich in protein, as are flaxseeds, sunflower seeds, and sesame seeds. These seeds are a great source of anti-inflammatory unsaturated fatty acids, minerals, and bioactive peptides that support cell and system function.
Green Goodness Hummus
Hummus is a staple in many plant-based households, and this recipe shakes up the traditional hummus recipe by adding bright green herbs to the blend. Enjoy this hummus in wraps or with vegetables, chips, and more.
Ingredients:
One can (16 oz) of chickpeas
¼ cup tahini
Juice from 1 large lemon
2 tbsp. olive oil
½ cup fresh parsley, chopped
¼ cup fresh basil, chopped
3 tbsp. fresh chives
1 garlic clove, minced
Salt to taste
How to Make It:
Drain and rinse the garbanzos.
Add tahini and lemon juice to a food processor, and process for about 2 minutes or until smooth. You may need to stop and scrape down the tahini off the sides to process thoroughly.
Add olive oil, parsley, basil, chives, garlic, and salt to the food processor with the tahini mixture, and process for about 1 minute.
Add the chickpeas about ¼ cup at a time, and process for about 1 minute, scraping down the mixture from the sides as needed.
Pour the hummus into a small serving bowl, and enjoy!
Tip: The hummus will store in the fridge for up to one week or in the freezer for up to two months.
Nutritional Benefits
Chickpeas are packed with fiber, minerals, vitamins, and antioxidant and anti-inflammatory compounds, in addition to being a good source of plant-based protein. The olive oil delivers several antioxidant and anti-inflammatory compounds, and the herbs are a great source of minerals and phytochemicals that support overall health.
Chocolate Chia Pudding
Make this chocolate chia pudding the night ahead for a delicious and nutritious sweet treat the next day.
Ingredients:
2 tbsp. chia seeds
¾ cup almond milk or plant-based drink of your choice
1 tsp. maple syrup or honey
½ tsp. unsweetened cocoa powder
½ tsp. vanilla extract (optional)
Raspberries for topping
How to Make It:
In a mason jar, mix together the chia seeds and almond milk.
Add maple syrup, cocoa powder, and vanilla extra, and mix with a fork until the liquid is uniform.
Place in the fridge, and let sit overnight.
When you are ready to eat your chocolate chia pudding, stir the mixture, and add raspberries or the fruit of your choice.
Nutritional Benefits
Can you tell we are fans of chia? In addition to having numerous nutritional and health properties (see the chia seed crackers recipe above), chia has a unique quality: When they are soaked in water, the seeds form a gel around them. With the right proportion of water and chia, a pudding-like texture is formed. Add some cacao, sweetener, and fruit of your choice, and you have a nutrient-rich, delicious chocolate pudding.
Popcorn Trail Mix
This sweet, savory, and crunchy snack hits the spot. Whether it's a movie night, a road trip, a desk snack, or something to munch on while on your afternoon commute, this popcorn trail mix is filling and flavorful. We suggest some ingredients here, but you can add any blend of nuts, dried fruit, and sweets that you have in your pantry.
Ingredients:
2 cups popped and salted popcorn
Dried cranberries or raisins
½ cup roasted and salted cashews
½ cup roasted almonds
¼ cup semi-sweet chocolate chips or cacao nibs
How to Make It:
Pour all the ingredients into a jar or to-go container, and shake it up!
Nutritional Properties
Popcorn is a great source of fiber, as are dried fruits, and cashews and almonds deliver plant-based protein and anti-inflammatory fats. The cacao nibs or dark chocolate chips are a great source of powerful antioxidants. All of the ingredients of this trail mix deliver a wide variety of antioxidant phytonutrients.
3-Ingredient Banana Ice "Cream"
Bananas are incredibly versatile fruits. While you've probably had them in smoothies and baked goods, did you know that they also make creamy, delicious ice cream? Make this 3-ingredient banana ice cream at home once, and be prepared to put an extra half-dozen bananas on your weekly grocery list.
Ingredients:
6 ripe bananas
1 tsp. vanilla
1 tsp. cinnamon
How to Make It:
Peel bananas and place them in a large food processor or blender. Blend until smooth.
Add vanilla and cinnamon, and blend for another 30 seconds.
Pour the banana mixture into a freezer-safe container.
For a chocolaty version of this banana "ice cream," mix in some cocoa powder, cacao nibs, or chocolate chips to the blend before pouring the mixture into a freezer-safe container.
Nutritional Benefits
Bananas are a good source of fiber and contain important amounts of potassium, vitamin B6, vitamin C, magnesium, copper, and manganese. They also contain several bioactive compounds, including phenolics, carotenoids, biogenic amines, and phytosterols, which, when consumed regularly in a balanced diet, can help to prevent a wide range of chronic diseases and degenerative disorders.