Newly-certified personal trainers or personal trainers who want to revamp their business have multiple challenges and opportunities ahead of them.
One of the keys to success when it comes to starting a personal training business is following tried and true advice from the experts. With over twenty years in the business, AFPA has a long history of certifying personal trainers and equipping them with the know-how to start and build up their own businesses.
If you are entering the profession of personal training, it is a time of growth and opportunity. Awareness of the benefits of personal training has been expanding for over a decade, as is the client market. Even if you've been a personal trainer for some time, the personal trainer terrain is constantly changing, and what worked five years ago may no longer be effective today.
This increased opportunity is accompanied by a huge influx of new personal trainers into the industry, which means increased competition.
Here, we've compiled twelve up-to-date proven tips for starting a personal trainer business.

Find Your Niche
What kind of training are you going to provide and what type of clientele are you going to serve?
There are several ways you can define your niche. You may want to focus on providing training to high-level athletes, people who want to lose weight, or senior citizens. Each "persona" is a world of its own, so the clients you chose to serve will determine what sort of training you are going to provide.
To help you decide who and what you want your business to focus on, you can begin answering these questions:
Where are you going to carry out your personal training business?
Do you want to serve a specific group of people (e.g., seniors, young athletes)?
Do you have some area of expertise due to experience or interest (e.g., in-home training, weight loss, weight gain, functional training)?
What type of Personal Trainer Certification will you choose?
Will you carry out all of the personal training, or will you have partners or employees?
There are as many opportunities in the fitness industry as there are places to train your clients. Places of training include in-home, outdoors, private studios, parks and recreation centers, corporate offices, and health clubs.
Some examples of people you can cater your personal trainer business to include:
Prenatal and postnatal women
People who are raising kids
Young athletes
People aiming to lose weight (fat loss)
Bodybuilders
Middle-aged men and women
Physically impaired people
Busy, work-oriented people
Couples
For each niche, there are certain things you should keep in mind:
The Where
When thinking about where you want to offer your personal training services, consider the geography of your city or town and any specific limitations you might have.
For example, if you are interested in training your clients in their homes, consider whether you will only accept clients within a particular area or who live in a particular apartment complex and if you have a way to move from place to place efficiently.
If you live in a suburban or rural area and want to train multiple people at once or are not interested in traveling to clients' homes, you may want to choose to train clients in a gym, community center, park center, or online.
Physical Limitations
If you offer services to senior citizens, you will want to choose training options that are low-impact and that help to recuperate muscle mass, since older adults experience sarcopenia.
Choosing Specific Methods
As you know, there are dozens of exercise methodologies and programs for achieving different goals. Do you want to offer free-weight training? A functional fitness program? Do you want to specialize in CrossFit or TRX?
Ultimately, when you choose the method or methods you want to take on, you should be aware of why you are choosing it—what is going to be the added value you offer to your niche?
If you can't decide…
If you aren't sure what you want your niche to be, look inwards. How do you identify? What have been some of your struggles with fitness and health in the past? What did you wish you knew that would have helped you lead a fit and healthy life?
When you are genuine with your clients, they feel like they can relate to you and see that you have overcome some of the same obstacles as they have, and they are more likely to trust in you to help them reach their goals.
If you want to learn more about finding your niche as a Personal Trainer or Health Coach, read this post.
Learn How to Become a Certified Personal Trainer Online in Less Than 6 Months
Determine Your Role in the Business
If you thought that a personal trainer had only one way to start a business (offering one-on-one services to individual clients), think again! While one-on-one personal training is a popular business model with plenty of opportunities for success, there are other options for starting a personal training business.
Some of these include:
Starting a business with other personal trainers specialized in different areas
Owning a fitness business and hiring personal trainers to work with clients
Creating a unique personal training model or brand and licensing out the model
Working as a freelance personal trainer and working with clients through gyms
Creating an online platform where you can train clients virtually, including pre-recording routines to train several clients simultaneously
Offering group training in addition to one-on-one training
Determine Your Time Availability
Self-employed personal trainers have the advantage of being able to build their own schedules. However, consistent income from personal training takes time to develop, and you may need to work another job as you build up your clientele.
There is no foolproof strategy to getting to a point where all of your income comes from personal training. It may also be that becoming a full-time personal trainer may not even be your goal.
Download the Personal Trainer Career Guide
After you've decided what your role will be in the business (point 2), you may have a better idea of the time commitment you'll need to get your business off the ground and working.
Get Some Experience
Getting experience in personal training gives you the opportunity to relate to potential clients, observe other trainers, and practice using and helping others use the exercise equipment.
If you can get employment selling health club memberships or related services, you will enhance your personal training sales skills. Use this opportunity to find out the interests of members.
Gaining experience can also help you to get a better idea of your potential income and specific clients' willingness to pay, clients' schedules and consistency, and other important knowledge.
Ideally, as you gain experience, you have a mentor who can guide you through the ins and outs of the personal training and fitness business.
Make Sure You're Legally Compliant
As a professional who offers a service in exchange for money, it is essential that you follow all the legal steps to protect your business and yourself. This means,
Only offering services for which you are certified or permitted to in your state
Paying your taxes
(Potentially) filing for a business structure if you won't be self-employed
Setting up legally-backed agreements (contracts)
Here are some more AFPA resources for each of these points:
One of the biggest questions is that of the CONTRACT.
A contract clarifies expectations and responsibilities on both ends. Remember that, in order for your contracts to be legally binding, they should be set up by an attorney.
Your contract should be a standard template that includes sections on what your personal training service includes, scheduling, cancellation policies, billing and payment, communication, and terms for terminating the service.
Here are some common sections that are included in a contract: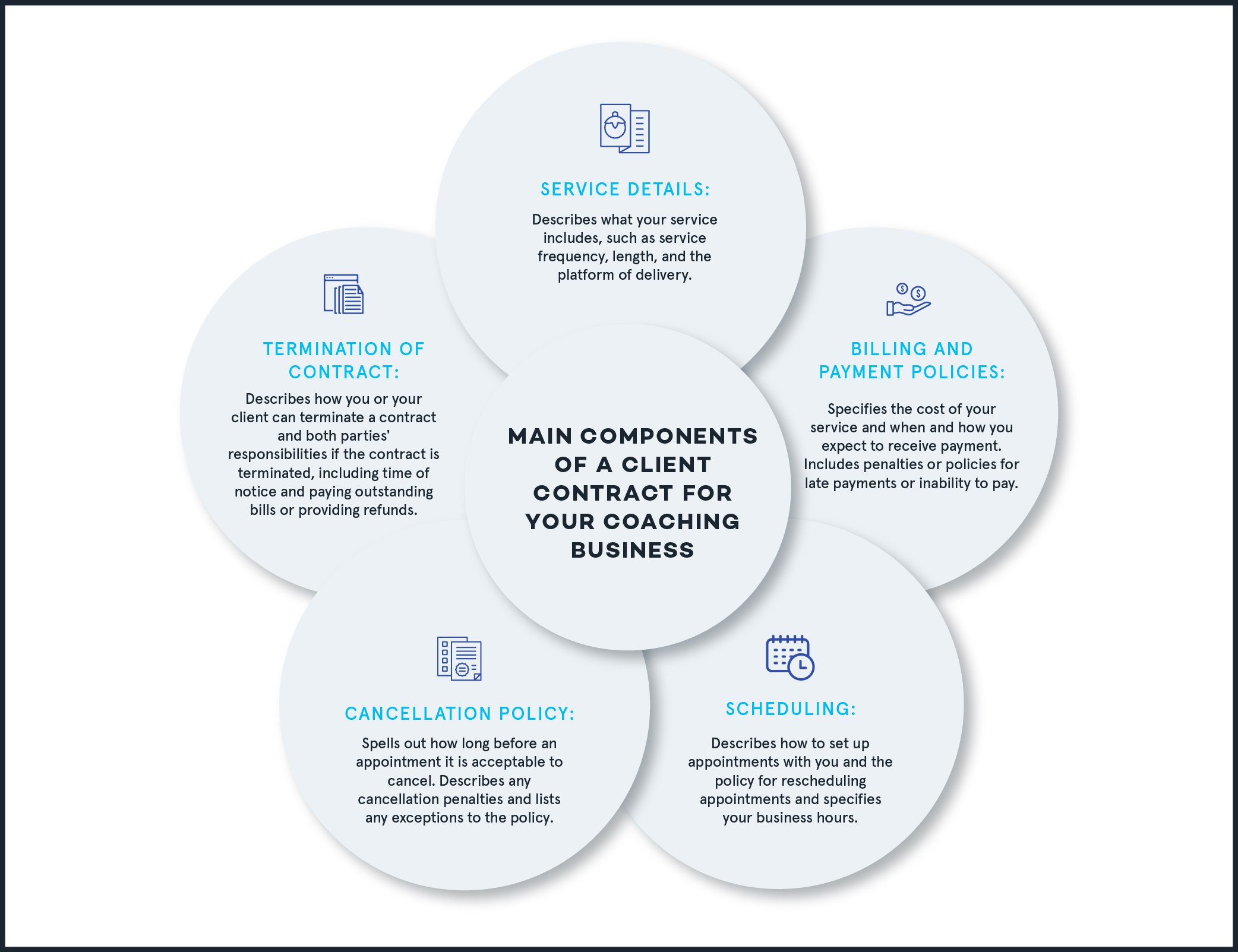 Service Details
Write out what your service includes, and be as specific as possible. For example, you can explain that, upon signing up, clients will receive an initial consultation where you will discuss their goals and your proposed methods, and shortly after, they will receive a training plan. Describe what they should expect, including providing weekly or bi-weekly training sessions in-person or online, access to an app, and any other details.
You may also want to describe what their responsibilities are to you as their trainer—sticking to the training, consulting you before changing their exercises, and the importance of being honest about health conditions and physical limitations.
Billing and Payment
Business law attorneys recommend that all businesses write out a customer billing and payment policy. Write out the cost of your service and when and how you expect to receive payment. Include penalties or policies for late payments or inability to pay.
If clients require an invoice, you can use a printed receipt or email receipt. Even if you do not feel comfortable with a pre-pay system, get paid for each session before it begins.
Pro-tip: Have your clients pre-pay for sessions and appointments. Most trainers use this policy, and it will help your cash flow and cancellation policy tremendously. At the very least, ask them to pre-pay for a week of training. Establish this understanding during the initial consultation. You might be surprised to know that most clients will find it convenient to write one check/direct deposit or charge per month instead of one every time they have a session.
Scheduling
It is important to get your clients committed to a consistent schedule, both for the benefit of their progress and to help make your training week more efficient. Work hard to try to get the client committed to specific training times and write them out in the contract.
In this section, describe what your policy is for rescheduling appointments as well.
Cancellation Policy
Determine a cancellation policy and stick to it. Many trainers adhere to a policy that states that if a client cancels within 24 hours of a scheduled appointment, they will be charged a partial or full amount of a training session fee. Illness and family emergencies must be taken into consideration as acceptable excuses. Use your own discretion.
Remember that a cancellation policy means nothing unless you are able to enforce it. Your time is valuable, and you need to account for those hours that you set aside for clients.
Termination of Contract
Describe, under what terms, either you or your client can terminate a contract. Be specific about how long before termination you need to notify each other.
Don't Forget Take Time Off for Yourself
The patterns and rhythms you set early on in your business set the tone for what your clients can ask of you and what limits you set for yourself.
If you aren't successful at setting limits and taking time to rest, you could become a victim of the Personal Trainer Burnout Syndrome.
A successful personal trainer needs to allow time for their own workouts and personal interests, as well as an occasional week off. While it seems contradictory, taking time for yourself ensures you can give 100% to your clients in the time you have allocated to be there for them.
Setting boundaries for when your clients can contact you and for what reasons and setting aside time to socialize, rest, and be with family can help you stay alert, creative, and active.
Get Certified and Continue Your Education
Many successful personal trainers do not have degrees in Exercise Physiology or a strong background in Exercise Science. Trainers can get certifications from organizations that specifically certify personal trainers, such as the American Fitness Professionals Association (AFPA).
AFPA not only offers online classes for personal trainers, but also specialized fields like nutrition certifications, fitness certifications, yoga certifications, and Pilates certifications.
In addition to your Personal Trainer Certification, you should be CPR certified through the American Red Cross and the American Heart Association. There are workshops and lectures held around the country every month that provide trainers with new information and material to update their skills. Also, most certifications require that you update through continuing education on an ongoing basis.
Get Professional Liability Insurance
Professional liability insurance protects professionals like personal trainers against losses (financial or otherwise) that arise from legal claims your clients could file against you, like those of negligence and malpractice.
This is critical for any personal trainer. AFPA has examined many insurance organizations and has compiled a listing of those organizations that offer reasonable rates with excellent coverage. Professional Liability Insurance organizations are listed here.
Invest in Marketing Materials That Represent Your Brand
Prospective clients will often see your marketing materials before you have any one-on-one interaction with them. This material may be in the form of Facebook ads, a website, a brochure, a printed ad, or a business card. If your business materials do not prompt a prospective client to contact or respond to an ad, they are not effective.
We've highlighted some ideas below, but if you want to dive into marketing for your business, here are 25 Personal Training Marketing Ideas to Get More Clients.
Digital Marketing Materials
Digital marketing is the prime place of investment in ads and marketing for many professional services. In 2018, business leaders invested more than half of their business's marketing budget on digital marketing. This is because people are spending more and more time online and turn to printed materials a lot less frequently every year.
Some of the most popular digital marketing channels are:
Display banners and advertisements
Paid search ads
Email marketing
Mobile app marketing
SEO
Social media marketing (Facebook, Instagram, Twitter, LinkedIn, etc.)
The mix of digital marketing is diverse, and each channel has a unique approach with regards to the messaging and content you should publish.
Creative Marketing Tactics
Competition can be harsh, and it is important to stand out from the crowd. While establishing a solid marketing strategy is important, it is also important to get creative.
Offer free "mini" workouts in a community center, park district gym, or through Facebook Live or Instagram TV. Limit these sessions to a half an hour, and focus on the client's immediate interests. If you are successful, several of them will come back to you for more.
Business Cards
Business cards are always a useful tool to have on you. When you meet people and casually bring up what you do, hand them a business card in case they want to find out more information.
Keep them simple. Do not list all the things that you can do, for example: weight loss, nutrition, strength training, etc. You will confuse a client and dilute your effectiveness. Include your full name and abbreviation of your education and certifications.
Be honest and straightforward. Tell them exactly who you are: a Personal Fitness Trainer, Strength & Conditioning Specialist, Nutrition & Wellness Consultant, Children's Fitness Specialist, and so on.
Keep graphics sharp and clear.
Keep in mind, if you are trying to attract both male and female clients, avoid overly feminine colors or icons that are overly masculine.
Tell them where and how they can find you online. If you use Instagram, for example, add your unique handle.
Brochures & Marketing Pieces
Personal trainers are shifting away from traditional marketing materials like brochures and in-print marketing pieces, but some demographics, like seniors, still look to brochures to find the services they need.
Here is some basic information about what you should include in your physical or digital brochures:
If there is too much to read, it will not get read. View yourself and your services/skills and let your writing reflect those qualities in a realistic manner. If the information you are conveying truly reflects what you can do with clients, it will speak to those who read the piece.
Tell prospective clients more about your background, philosophy, and the services you offer. Be concise, clear, and honest. Too often, new trainers will try to cram as much information as possible into a marketing piece in order to cover all bases and attract as diverse a client base as possible.
Include:

A short biography of yourself and your philosophy
A brief description of the services you offer
A clarification of your location
How to reach you
The sort of consultation, if any, you offer
Use the highest quality material that your budget will allow. Keep in mind that you are trying to appeal to more than just a few people, and a simple, professional approach will assure that your piece gets attention.
Pro-tip for low-budget beginners: If you know someone who works in the graphic design or printing business, consider doing a "trade-out," personal training for the design and production of your business materials. If you approve of the work this person does, your training efforts will be well spent. Be sure that you ask for samples of their work before you agree to use a designer's services.
Telephone Availability
Be available for new client inquiries. Set up your voice mail so it is reflective of the business. If possible, try to have a separate line for your business calls (this can be deducted as a business expense on your taxes). On your outgoing message, use your full name and your business name, advise callers to leave specific information, and state that you will promptly return their calls.
Electronic voice mail is also an option that does not necessarily require a second phone line and can be less expensive than installing another line. A professional answering service is another option that runs through a company that you pay to use. It is managed electronically through a computer and will relay your messages via text or email immediately.
If someone is looking for your service and you do not respond quickly, they may find it elsewhere, so remember to call or message them back if you are unable to tend to a call.
If you must use a cell phone, turn it off during sessions with clients.
Offer an Initial Consultation
Before jumping straight into training, it is important that you meet with your client (or potential client) to get a better understanding of their needs, goals, expectations, and whether they have any special medical or physical limitations.
Your first meeting with a potential client is critical. In this meeting, you want to create the best possible impression. It also sets the tone for your client/trainer relationship. This meeting will also determine the extent of the commitment the client is willing to make to train with you, including frequency and longevity. It is also an opportunity for you to establish your boundaries regarding cancellations and billing.
Listen to the Client
Use active listening when you are speaking to your clients.
All the clients you meet will have different goals and needs. You just have to let them tell you what they are. Make consistent eye contact while listening to a particular client. Acknowledge every piece of information your client provides. Ask them what they expect from a program, and describe how you plan to help them accomplish their goals. Be specific about how you will work with them. Let them know what type of testing and feedback you will provide and how you will support them and their progress.
Choose a Personal Trainer Practice Management Software or App
This might be one of the biggest time-savers of any other tip we can give you. Traditional personal trainers turn to Excel spreadsheets, agendas, and pen and paper, and find themselves shuffling between several documents and files to keep bookkeeping, scheduling, and programming all in order.
Save yourself the time and the stress, and find personal training software that will help you manage clients, programs, scheduling, and even billing. We review the top 11 apps for personal trainers here.
Main Takeaways
In this article, we gave you several tips on how to make your new personal training business successful, from finding your niche to making sure you're legally compliant to choosing marketing tactics.
Never forget the value you can bring to people's lives. Your future clients need to know what you offer as a personal trainer and why you are the best choice for helping them.
The best yoga certification courses, like the one offered by AFPA, are designed to provide a comprehensive education in the principles, techniques, and methods of teaching yoga to others, while also offering practical experience teaching and leading classes.